Discover more from Noah Levin's Blog
Living intentionally.
Let me tell you how I decided to move to New York.
It started when I met the woman of my dreams on a work trip. I was staying in the East Village, and she was living there, and we both swiped right. We went on two magical New York dates— the kind where you walk late in the autumn night through empty West Village streets and buy things at a bodega and sit on the steps of a brownstone for hours and decide to tell each other your last names.
I flew back to see her again.
She came to see me in Seattle.
And then it was time to take a trip together. We planned a vacation to the jungle islands of Panama— romantic, adventurous, and non-refundable — just a couple weeks before the Zika virus made headlines. So instead of flying to Panama, I took Jess to meet my parents in LA. As you know, things escalate quickly during global pandemics.
We drove up the coast, and three days later, over a cozy dinner at the Big Sur Bakery, we decided we would live together and that we would do it in New York.
—
I hated New York.
You already know the reasons. I mean, you've been here, right? You know these reasons especially well if you are a lifelong I'll-never-leave-New-York New Yorker, because you spend your days denying them out loud. "There's just an energy here," you will say as a taxi turns into your right-of-way and scrapes the skin off your kneecaps. "I love the subway," you insist, while picking a stranger's hair out of your teeth. These are not exaggerations.
I moved to New York for a girl. A truer expression of love there has never been.
But after three and a half years, I must admit that New York was good to me, and I don't hate it the way I used to. I lived in a nice apartment in a nice part of town. I found my coffee shops and restaurants and a grandfatherly barber named Boris. I had routines. I reconnected with old friends and made a few new ones. I had a great job on a great team at Amazon. I married the girl. We adopted a dog.
Life in New York was good, in spite of all its New Yorkiness.
—
But it was never going to be our forever home.
We want the life that you can only have outside the city. You know, like seeing the whole blue sky at once without the buildings slicing it up into Pantone swatches. Like opening your front door to get a breath of air without the smell of warm summer trash lingering under the surprise scaffolding that appeared overnight. Like peeing on a patch of grass rather than the sidewalk sinkhole outside of Mari Vanna. (That last one is the dog, to be clear, although I think some people pee in the sinkhole too.)
So, we bought a map of the USA, hung it on the wall, and began the search for HQ2.
First we drew a squiggly horizontal line from Oregon to Washington, DC and crossed out everything northward for being too cold. (Sorry, Seattle. We had our fun.) Then we crossed off any state that would force my wife retake the bar exam. (Sorry, Mom, California is out.) And then we started circling cities, looking for the kind of cities that get New York Times headlines like, "I can't fathom why, but young people are moving to X." We spent a year traversing the country like two Goldilockses looking for the bowl of porridge that was just right.
We picked Austin.
And then Austin became a recurring daydream. For nine months as we planned our move, this became our metamorphosis. In Austin, we would become our best selves. In Austin, we would balance work and life. We would host our friends for dinner more often. We would run zoomies with our dog in the fenceless grass of Zilker Park. Go for long bike rides. Stand up paddleboard on Lady Bird Lake, even!
Austin was our vast ranchland of opportunity. Nothing could fence us in.
—
So anyway, our quarantine begins on Friday.
Specifically, per Governor Abbott:
Every person who enters the State of Texas as the final destination through an airport, from a point of origin or point of last departure in New York, New Jersey, Connecticut, or the City of New Orleans, or in any other state or city as may be proclaimed hereafter, shall be subject to mandatory self-quarantine for a period of 14 days from the time of entry into Texas…
and
During that period, a covered person shall not allow visitors into or out of the designated quarantine location … and shall not visit any public spaces.
and also
DPS Special Agents will conduct unannounced visits to designated quarantine locations to verify compliance by confirming the physical presence of covered persons.  Any failure to comply with this order to self-quarantine shall be a criminal offense punishable by a fine not to exceed $1,000, confinement in jail for a term not to exceed 180 days, or both.
Look, I get it. This is not the time to let viral vectors run around willy-nilly, even if it takes a touch of marshal law to stop them. I do not intend to mess with Texas.
But, you know, it's hard not to take it personally? I am showing up in my new town as persona non grata, at least until I produce some antibodies and wash off that New York stink.
Fine, then. I will crawl into my cocoon under threat of imprisonment. When I emerge in two weeks, like a chrysalis wearing a Longhorns cap, perhaps I will be one of you. This is not the metamorphosis I was hoping for.
Meanwhile, at least the wide open spaces will make for a nice view.
—
Let me tell you how I will leave New York.
Tonight I will stay in the saddest hotel you have ever seen. We have yet to see another guest. The elevator is always waiting on our floor. It is playing lounge music that once was trendy but now is post-apocalyptic. At five o'clock, a lone receptionst tells us, we can pick up a plastic-wrapped sandwich from the dark, closed restaurant. The unhappiest of hours.
Tomorrow we slink away. Without eating our favorite meals. Without finishing our bucket lists. Without giving our friends proper hugs goodbye. We'll be wearing our masks and wiping down our armrests. Our direct flight was cancelled— who would go to Austin at a time like this?— so we will transfer in Atlanta. If our flight leaves at all. What an odd and melancholy end to this chapter.
I may have hated New York when I arrived, but it's hard to leave it like this.
There is a thing called the peak-end effect which says that you remember an experience by how you felt at its peaks and at its end. This is not the end I want to remember New York by. I'll spend tonight remembering all the peaks instead. There were many.
And tomorrow night, we can begin the rest of our lives in Austin, one square foot at a time.
—
Although I am sad that my time here is done,
I am ready to go somewhere new,
So tonight I will shelter in place number one,
And tomorrow in place number two.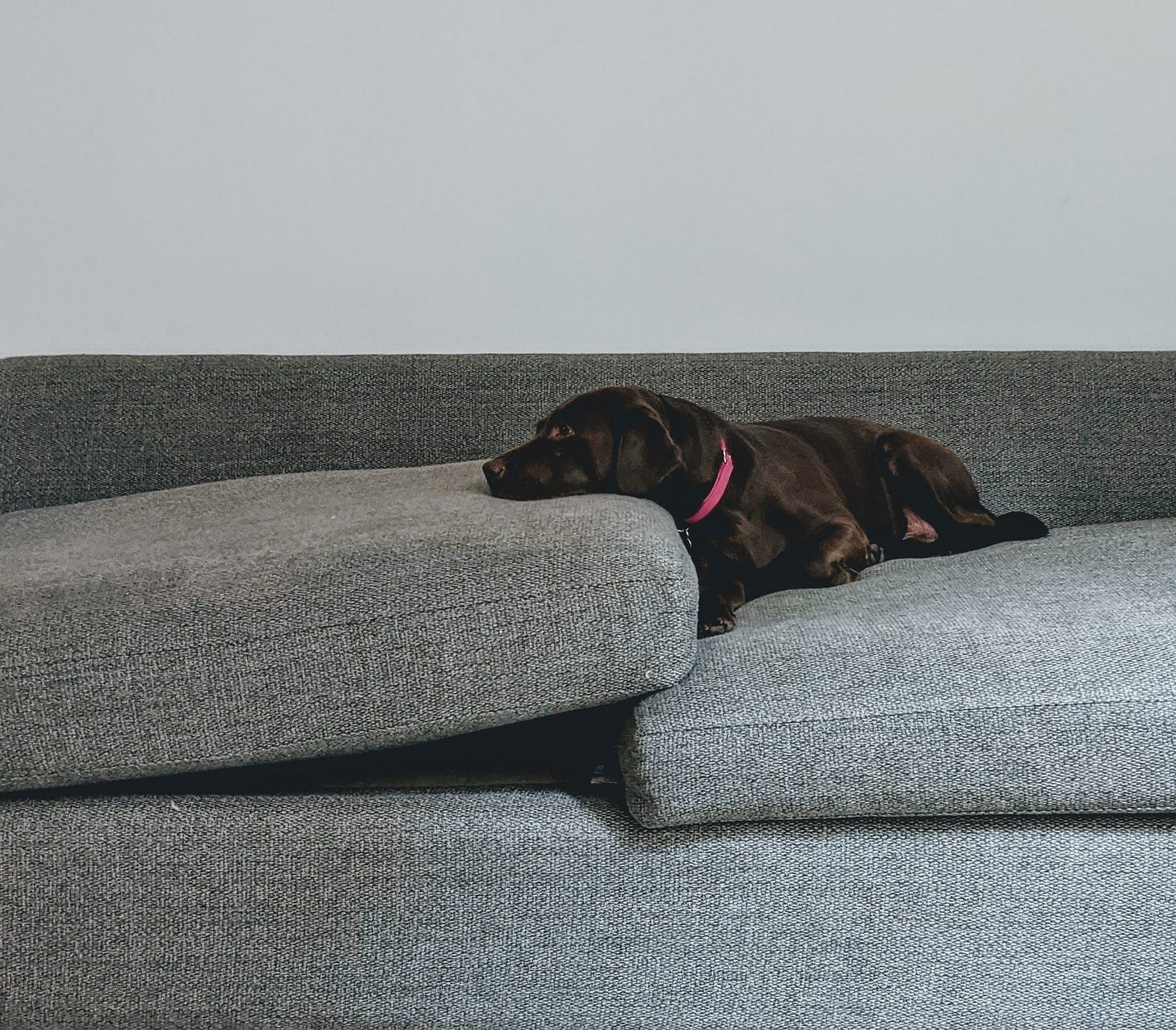 Watching the movers move.